The Top 7 Engagement Ring Center Stone Shapes
Come to us to make a memory, start a tradition, celebrate an occasion, or create a keepsake for someone special.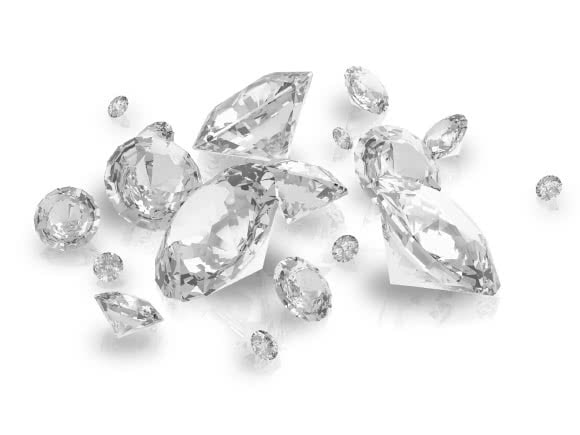 When you begin the search for the engagement ring of your dreams, one of the best places to start is the center stone shape. The center stone is of course the main focal point of the ring, and before you choose the engagement ring setting or a wedding band, you'll want to be able to take the center stone shape into account. Each stone shape has its own unique beauty and allure to many brides-to-be, but it's helpful to know the strengths and disadvantages of each shape before making your choice. Some of the most important factors to consider are the relative price of each shape, its level of brilliance, the size and shape of your hand, and your personal style.
Round Cut
For more than a century, the round cut has been the most popular choice for brides-to-be. Round cuts are beloved by brides who value tradition and deep-rooted symbolism. A round brilliant diamond has exactly 58 facets with precisely calculated proportions that maximize the amount of light bouncing from the bottom of the diamond back through the top. That means round cut diamonds have more fire and brilliance than any other shape! The tradeoff here is cost. A round cut diamond is typically more expensive than any other shape in the same carat size. That's because more of the rough stone is discarded when cutting it into the perfectly proportioned round brilliant shape. Versatile round diamonds can flatter any hand shape from slim digits to wide fingers but consider keeping the size of the stone in proportion to your hand.
An iconic round center stone anchors this 14K white gold engagement ring setting inspired by the Art Deco era. Adorned with milgrain accents, it flaunts alternating segments of baguette and round diamonds along the shank and a peek-a-boo diamond basket.
Princess Cut
A relatively new and modern shape, the princess cut was first introduced in the twentieth century but has quickly become the most popular fancy (meaning non-round) diamond shape. Fittingly, they also have a brilliance that nearly rivals the round cut. Characterized by a crisp square silhouette, princess stones pair especially well with contemporary ring styles. A notable advantage of princess cuts is that they tend to waste the least material from the rough stone, which translates to a lower cost than a round cut of the same carat weight. They also tend to appear larger from above than comparable round stones and are well suited to both small and slim hands.
Garnished with trapezoid side stones, this princess cut engagement ring has a modern geometric appeal. A surprise pop of sparkle from a curved diamond bridge enhances the sleek 3 stone style.
Cushion Cut
Cushion cut diamonds are one of the oldest fancy diamond shapes, dating back over three hundred years. A cushion cut is basically a square with soft corners that give it more structure than a round diamond but a gentler, more romantic feeling than a princess cut. In addition to being less expensive than a similar round stone, cushion cuts can appear larger because of their diagonal length. They're a flattering choice for long, slender fingers. One drawback is that they tend not to be as brilliant as some of the more modern diamond shapes. However, their soft glow has a captivating vintage quality.
This intricately detailed Victorian style setting with elegant engraving, gorgeous milgrain edges, and graduated round accent diamonds serves as the perfect pedestal for your cushion cut center stone.
Oval Cut
Oval shaped diamonds and gemstones first became popular during the Victorian era. The modern oval cut we know today, with impressive fire and brilliance near to a round cut, was developed in the mid-twentieth century. However, an oval diamond has a greater surface area than a round cut stone of the same weight and can be purchased more affordably. Plus, their elongated silhouette helps to lengthen and slim the appearance of wider fingers. Alternatively, an east-west set oval can create an illusion of width.
Traditional yet feminine, this engagement ring captures the elegance of the oval cut. The 14K white gold setting features a hidden halo as well as a diamond-encrusted shank that delicately tapers toward the center stone.
Emerald Cut
The elegant rectangular emerald cut was originally developed for its namesake gemstone but is also a distinctive choice for a diamond center stone. Whereas most stones are brilliant cut, emeralds are step-cut, creating a hall-of-mirrors effect and a focus on clarity. Despite being relatively rare, they are a good value compared to round cuts. Their proportions allow them to appear larger than most other shapes at the same weight. Emerald cuts can also give the impression of longer, more slender fingers.
Stand out from the crowd with elegance and sophistication thanks to this emerald cut engagement ring. A dramatic diamond halo mirrors the center stone's shape and enhances its sparkle.
Pear Cut
Pear shaped diamonds, also known as teardrop diamonds, feature a gracefully rounded bottom and narrow, pointed top. This cut combines brilliance reminiscent of a round cut stone with the uniqueness of a marquise shape. At the same time, a pear cut diamond gives a larger look for a lower price than a round cut stone. Plus, like oval and emerald cuts, pear shapes are considered flattering for the way they can elongate the look of the finger. Though they can be worn either way, it's traditional for the narrow end of the stone to point toward the bride-to-be's heart.
This 14K white gold setting features a split shank with a delicate leaf motif that cradles the eye-catching pear shaped center stone. Milgrain detailing along the edge adds a lovely vintage-inspired charm.
Marquise Cut
With their distinctive oblong shape and pointed ends, marquise cut center stones are striking and unique. Legend has it the shape was designed to resemble a woman's lips. A modified brilliant cut, marquise diamonds boast excellent sparkle while their elongated shape has the ability to lengthen the look of shorter fingers. Marquise cuts have the largest surface area of any shape, and like other fancy cuts, they are less expensive than a round diamond of the same carat weight.
This rare yet refined marquise cut engagement ring will take her breath away. Glittering strands of sparkling pavé diamonds entwine gracefully with smooth 14K white gold before wrapping around the center stone in a dazzling halo.
Whether you prefer a classic look or a more unique alternative, straight lines or soft curves, maximum brilliance or a larger surface area, ultimately the best center stone shape is the one you love the most. Now that you know the ins and outs of each of the most popular diamond shapes, you can make an informed decision about which one is right for you.